14 September
I got picked up a little earlier today, but most of the morning was lost by me trying to find a place to cash my AmEx travellers cheques. They are in Australian dollars, which turns out to be unacceptable to the banks here in Jakarta. It's cash or US dollar cheques only.
Tomorrow I will try the airport but let me tell you, I am not a happy camper!
In the afternoon I caught a taxi to Sarinah again where I met up with another chat friend Rini. We took the busway to the old part of Jakarta where we looked around a puppetry museum.
After that I got a taxi back to my hotel in Sunter. I am confident that I now know the direction between the two places, although there is no way that I would want to drive it myself. Jakarta traffic is something else and it has to be seen to be believed.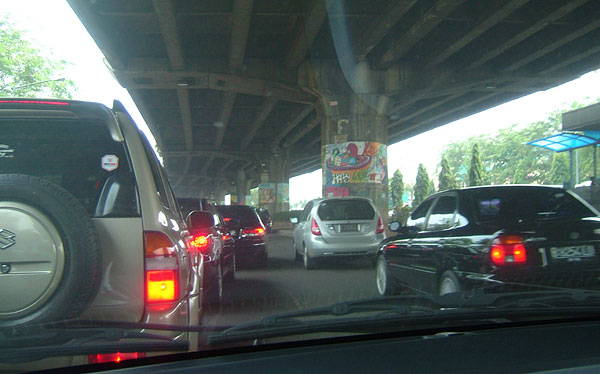 This is a very large gap for Jakarta traffic, but yet we aren't going anywhere fast. Above us is more traffic on the tollway.
I thought Bali was bad, but in a crazy mixed up way I could see the logic in it. Jakarta traffic is what can best be described as a cluster fuck!
I had western food (ie. Pizza Hut) for dinner this evening as I needed to give my stomach a rest after mild dehydration yesterday followed by the dodgy food I had in the night market.