With the major credit cards now offering contact-less payment systems there have been an increasing number of commercials to promote the service.
MasterCard, the first commercials I saw had a guy out shopping for his first date with emphasis on how much time he saved. Following in that theme, retailers JB HiFi and Bunnings also launched similar ads promoting the time saving benefits of using contactless payments.
JB had an action hero jumping out from a TV set to buy a universal remote and pause their nemesis and Bunnings had two blokes eyeing off the last sausage from the charity sausage sizzles that are traditionally outside their stores on the weekends. Of course, the guy who paid with his card was quicker and beat the cash paying man.
Visa have taken a different approach and I have to confess, it annoys me every time I see the ad, with features a whole bunch of happy diners eating the same as everyone else and paying for it with their visa cards. Enter the man who wishes to pay with cash and the whole system crashes – People pile into each other as the line slows down and the cashier gives the man a patronising look. The man is embarrassed, takes his change and leaves.
The happy diners continue to eat…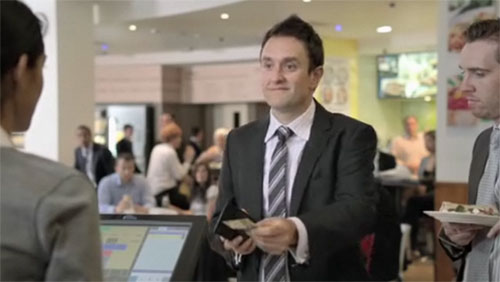 You sir are a hero