This page is archived from a static page – some links may not work
While I am thinking about it (ie, I just attempted to open Photoshop), why is it that every time I do an upgrade on MSN Messenger I always have problems with another service or program attached to my computer.
About three of four weeks ago I upgraded to the version 7 messenger only to find problems launching Photoshop. It didn't occur to me straight away that it was the IM software causing the problems, but it didn't take long for me to figure it out. Now, when I want to do some graphics work or some photo editing I find that I have to shut down MSN to open Photoshop.
It's kind of irritating, but not as irritating as the last upgrade which was conflicting with my router causing my Internet connection to hang whenever I attempted to use the webcam. In the end I had to do a firmware upgrade on the hardware..
It should not be that hard!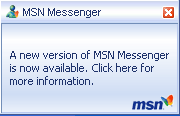 You're kidding, right?