This page is archived from a static page – some links may not work
Last week we had to deliver stupid Medicare brochures, and this week it's domestic violence.. Yes, this is an election year.
It basically means busy days at work with backbreaking amounts of mail, because these little booklets are going to every house in Australia.
The domestic violence, while is a very important issue, is crying out to have the piss taken from it and my evil sense of humour wants to run with the completely ironic approach, but I'm going to resist because comments like that just manage to upset people who don't understand it as humour.
Actually, I think the government have done a fairly good job at adding humour to it anyway. albeit by accident.
The front cover says "VIOLENCE AGAINST WOMEN, AUSTRALIA SAYS NO" which to me suggests that it's a new direction and that somehow domestic violence was acceptable before, and I keep thinking of that ultimate Alexander Downer political fuck up when he made his infamous "things that batter" quote.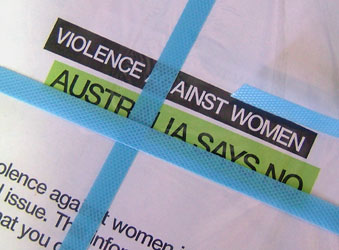 In the end though, any kind of violence is no joke.
---
Wyn posted a photo looking out of a friends office window –
Speaking of which I think I will post a pic of the view from my office window at work this week. Why don't you do the same?
I work from home and I also work from my car. As a result, I decided to post this as my office window shot.