Seeing as we had to go to Jakarta to sort out some paperwork, and seeing as it's usually cheaper to fly Garuda Perth – Denpasar and then catch a local flight to Jakarta we decided to do exactly that and include a break before heading home again.
Basically, due to timing we put the cart before the horse and had the honeymoon already!
As it happened Garuda were offering cheap flights to Bali via Jakarta so we didn't need to organise the local flights in either direction, and it was cheaper still!
It was cheaper because, for the tourist it means longer travel time. 4 hours to Jakarta, 1 and a half hours to Bali, plus the transfer times while a direct flight to Bali from Perth is just 3 and a half hours. However, as we wanted to go to Jakarta and, because we were able to delay the transfer from an hour to 4 days it actually worked out better for us.
Lia has been to Bali once before but it was a long time ago, where as I have been twice before this time and was much more relaxed about the whole thing.
For example, Lia was looking online for various hotels, weeks before we were going and I kept telling her that we didn't need to do that because we'll organise the hotel when we arrive in Bali.
As that's what I did the last time, I had no issues with it but it was Lia's turn to have a panic attack. She didn't need to worry because, on arriving back in Denpasar we walked out of the terminal, went straight up to a booking agency kiosk outside and asked them what they had available around Legian or Kuta.
They showed us a nice hotel which would have cost around $35 a night but I knew that we could get something cheaper than that. So the second choice was what we went with, saving us around $10 a night but still including Air-conditioning, restaurant and swimming pool.
Thanks to Lia, we did so much in Bali. I would have been happy to do maybe one cultural or touristy thing and then relax at the hotel or browse the markets for a couple of days but that didn't happen.
We arrived in Bali mid morning on Wednesday, settled into the hotel and then explored the local shops, one of which was a tour booking agent.
An hour later we were picked up from our hotel and driven to a popular but isolated beach called dreamland where I got to drink baby coconut juice from the actual coconut. I can now tick another life goal off my "to do" list, it's a simple pleasure i know :)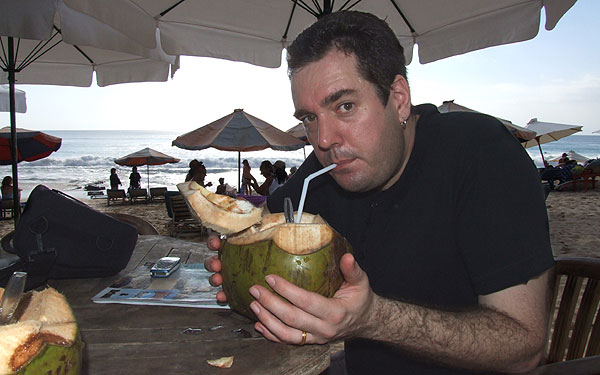 I always say that I deserve to be on a tropical island, drinking from a coconut!
We left the beach after a short while and headed to Ulluwatu, where we visited an old temple before sitting down to watch the Ramayana (kecak dance) as the sunset.

Bali Sunset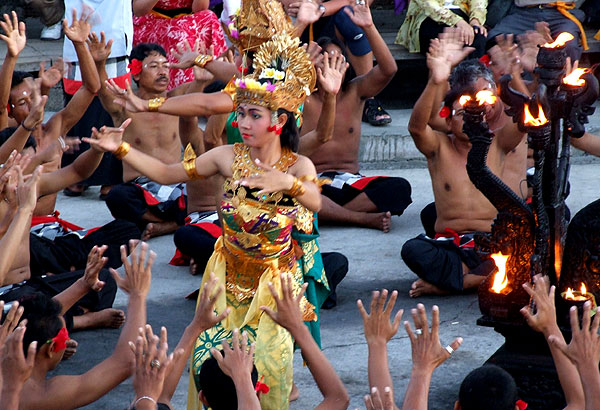 Kecak Dance
Next we headed to Jimbaran beach for dinner. The beachfront is enveloped by lots of restaurants, each putting tables out on the beach where people can dine. Of course, seafood is the main menu item at these restaurants.
We sat down and ordered our drinks and perused the menu. Then, when we decided what we wanted to eat we went up to the restaurant to select the seafood. You choose what you want from either the live tanks or off the ice and tell them how you want it cooked, they weigh the selected seafood and let you know how much it will cost and then serve it to your table.
I didn't select live seafood because of religious and conscientious objections but we did choose a nice fish, some king prawns and some squid.
All Photographs