21 September
I woke up at a leisurely time, had a shower and strolled to the restaurant for breakfast. After breakfast I waited for Juliana to arrive as she was going to take me to the markets. She picked me up a little after 10.30 and we headed off to Denpasar.
Our first port of call was the house that she shares with Evi and a few other girls. There we waited for Evi to take her break from work and then we all had lunch together. It was good! Traditional Indonesian food.. Nasi, Ayam Goreng, Kangkung, tempai and tahu. There was also a really nice fish dish, but the name escapes me now.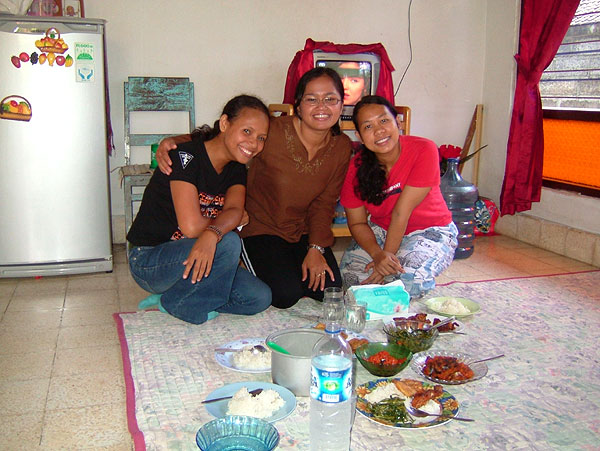 Makan Siang – Lunch Indonesian style. Sitting on the floor eating with our fingers.
We then went on to the market where I had to start bargaining, something that I am not so good at. I know on my last trip to Bali Amanda did most of the negotiations.. She was very good at it too. Thankfully I had another expert to help me… A local!
I got some clothes for the kids and some decorative items for the house. I also got some shorts for me to wear tomorrow. Although I had my laundry done on Saturday at the hotel in Malang, I am rapidly running out of clean clothes.
After the market we went to a museum in Denpasar which depicts the history of Bali. A history that is full of battles after the invasion of the Dutch who came to the Indonesian Archepelego to plunder the riches of the region. The Dutch were replaced by the Japanese in the Second World War and then for a year following the Independence of Indonesia in 1945 the Dutch attempted to regain the Island.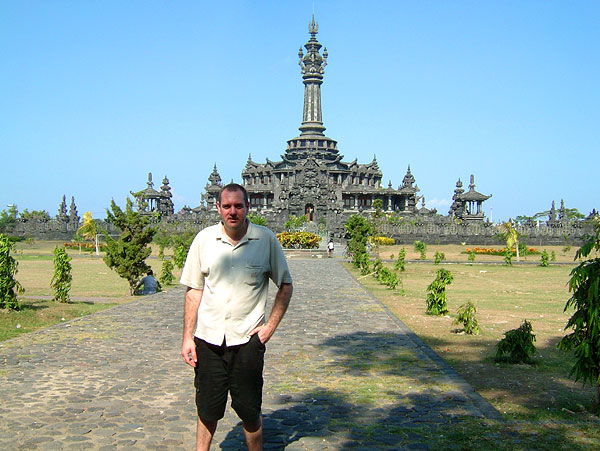 Myself in front of the museum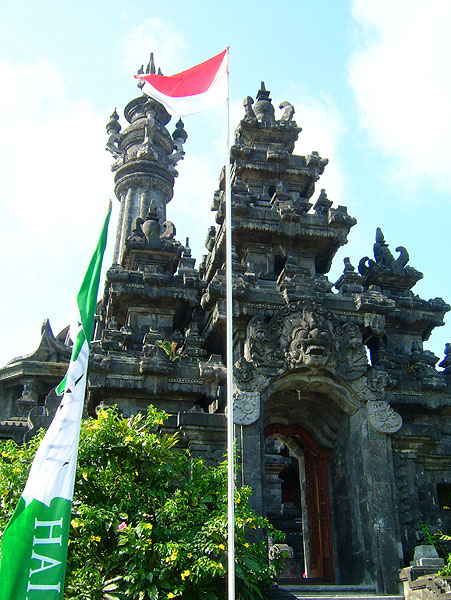 The Indonesian flag over the gateway to the museum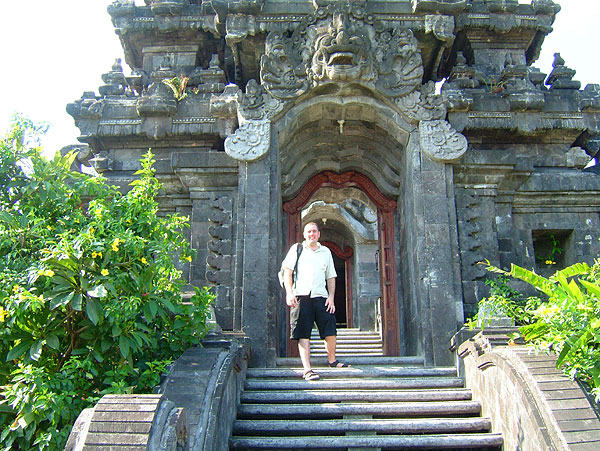 Me on the stairs by the entry gateway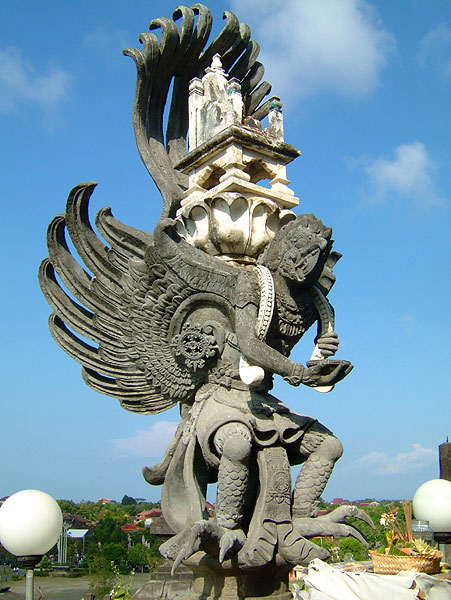 Hindu statue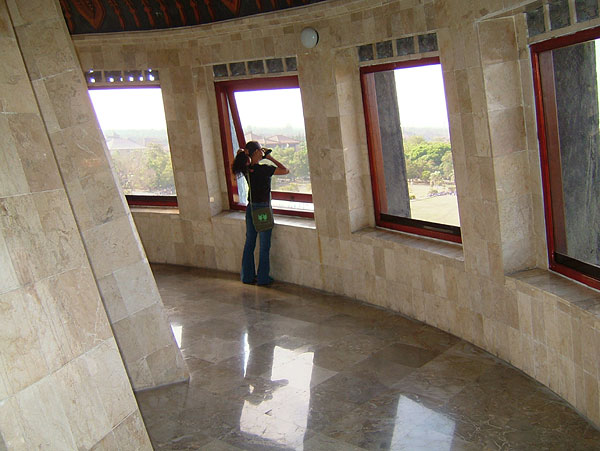 Observation deck
The day was starting to get late so we returned back to the house where we waited for Evi to return from work.
Evi and I walked to the nearby shop to get a drink. The children of the house were serving and they were all fascinated to have a westerner in their shop. Where my friends live is outside the tourist area and the road is too narrow for a car to get down. It's definately a "locals" area.
The eldest child was asked if she was learning English by Evi and she said that she was so Evi suggested that she practice with me. The child must have been about 6 or 7 and was too embarrassed to try.
"Jangen malu", I said to her, which means "Don't be shy" but she was not going to try.
We then returned back to Legian and to my hotel where I had a quick shower before we all headed out to find somewhere for dinner.
It is fucking hard to find a place that sells Indonesian food in Legian. Plenty of western style foods, or eastern foods that have been marketed to westerners. Also plenty of Japanese restaurants, but I wanted something more traditional. We found something and I ended up having a balinese style fish dinner. It was very nice.
After dinner we returned to my hotel were we sat and discussed what we would do tomorrow. I need to work around the checkout of this hotel as well as clean up and have a shower. The plans are to do some shopping then return here to finish packing. The hotel said I could leave my luggage at the reception after checkout which is good because I don't want to be carrying all my gear around Bali for an extra 2 hour. I will check out about 1pm and then head to the airport at 3
I want to use those two hours to go to the bank and return the million rp that I borrowed from my friend in Jakarta.