20 September
I beat my alarm. I had it set for 6.30am but woke by 6 so I decided to get up. When Rofi arrived at a little after 7am she was a little surprised to see me sitting outside the front waiting for her.
I insisted that she join me for breakfast. I had the western staple of toast and eggs and she had nasi goreng. After that we sat and talked before my taxi arrived to take me to the airport in Surabaya. I had decided to take a taxi because, despite the cost it was worth it to not have to mess around with public transport. Rp 175.000 is a lot of money for travel there, but concidering it was a two hour drive to the airport it's still very cheap compaired to here. I think it money well spent.
When the taxi arrived I said my goodbyes to Rofi, but the taxi driver came up with an enterprising idea. He offered to take her on the round trip for just 75.000 more. I decided that it a bargin for two extra hours company and the driver would have been happy too because he would have had a dead drive home and now he got paid to drive back to Malang. Something he would have had to do anyway.
I arrived at the airport with plenty of time for my flight. Even more so because, as expected, the flight was delayed by an hour. Domestic air travel!!!
Once I arrived in Bali I phoned Evi to let her know that I had arrived safely and then proceeded to organise a place to stay. I know that it costs a little more, but I went to one of those accommodation booking places at the airport because I didn't want to be hiking around hotels looking for a place to stay.
On the taxi drive to my hotel I recognised the places I was familiar with from my trip 4 years previous.
The hotel looks pleasant enough. It is more expensive than the hotel in Yogya and Malang but still cheaper than the one in Jakarta… And still a heap better.
My room overlooks the pool and I am contemplating going for a swim while I am writing this but right now I am waiting to meet my friend Dewi, another Internet friend and someone who I have known for over two years. She was very surprised to receive my telephone call although I had told her I was planning to go to Indonesia.
I did end up having a swim because not long after writing the notes Dewi said she would come a little later and was going to bring a friend too. The water was great, so nice and refreshing. I have been sweating a lot in Bali because, although it's definitely not as hot as Yogya was, it's more humid.
I went out with Dewi and her friend for dinner and my god, I can't believe how expensive it was. While it was still cheap by Australian standards, dinner cost me nearly 180.000 or about $25 for the three of us, but then I had just come from Java where the previous night's upmarket dinner cost 75.000 and the meal of fried chicken and rice at a roadside diner in Yogya for 4 people gave me change from 20.000.

Myself and Dewi
Another thing is the sheer number of westerners. I had got used to the stares of being the only bule around, but here there are many. The local traders are much more pushy too. I guess because they need the trade and there is so much competition that they need to be. In Java they would ask, you would say no and that was the end of it. Here they ask, you say no.. they ask again, you say no again.. they push again.
Aughh "tidak terima kasih", "tidak purlu"..
Just as Dewi and her friend were getting ready to leave I got an SMS from Evi and Juliana letting me know that they were on their way and would see me in about 20 minutes, so after saying goodnight, I decided to walk to the nearby shop and get a lemon tea and an icecream to enjoy while I waited .
We sat outside my room for a while before deciding to go for a walk down to Legian beach where we sat in the sand and chatted some more, took photos and just generally chilled out.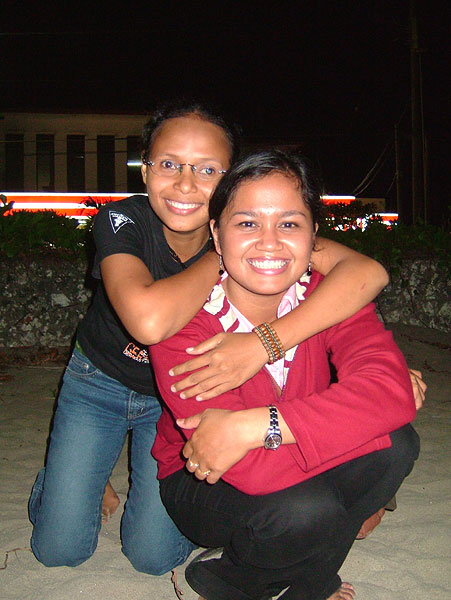 Julianna and Evi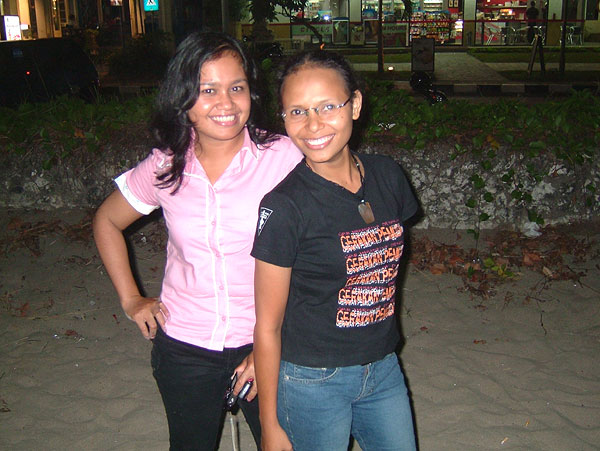 Evi and Julianna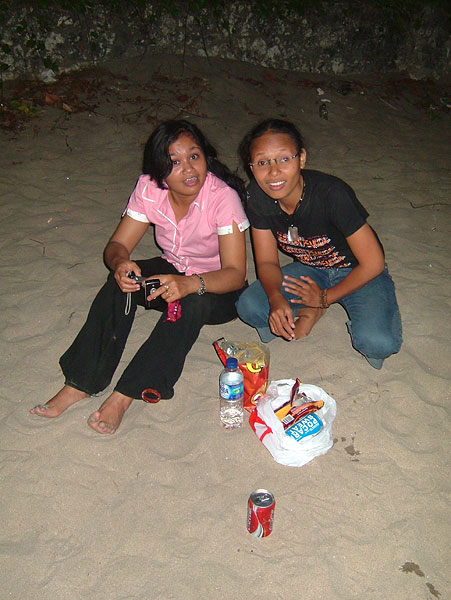 Gotcha!
When I returned to my room I had a nice long shower before settling down in bed, watching the end of whatever movie was finishing up on the tv before going to sleep.