Day two started with me being stranded in my hotel. My friend Lenda had told me not to go out after she had dropped me off. So I wrote some notes and then went to bed.
My room was freaking cold. The porter had turned on the air-conditioning for me but took the remote as clearly, the usual clientele of this establishment cannot be trusted. Also, as this is the kind of place that some people rent rooms by the hour, the bed was fairly basic. Just a sheet on top of a rubber mattress… Mmmmm comfort!
I am certainly glad that I took an excessively warm jumper, although I have to confess it was more to deal with the temperature in Perth than for use in Indonesia.
Lenda was late. She was waiting for her teacher who was wanting to meet me and so she didn't get to my hotel until around 10.
13 September
We then went to a mall where I got some money changed and went and paid for my ticket to Yogyakarta. I must be a glutton for punishment because I am flying Adam Air again..
After we left that mall, we went on to another in Kelapa Gading, which is near to where my friend lives. Great, 14 hours in Jakarta and I have already been to three shopping malls, all of them many times bigger than the large ones in Perth.
We had what I guess we could call "brunch", although there is no word for that in Indonesian. Presumably it would have been makan siang (lunch) as it was closer to that time than makan pagi (breakfast). We ate so much food and I got to try so many different things.
After lunch I took a taxi into Sarinah, which is central Jakarta where I met up with my friend Sonya.. At yet another mall!!!
Sonya ate her lunch there while i decided I was feeling too full to eat any more, then after that we went and did the tourist thing and went to visit Monas, the National Monument.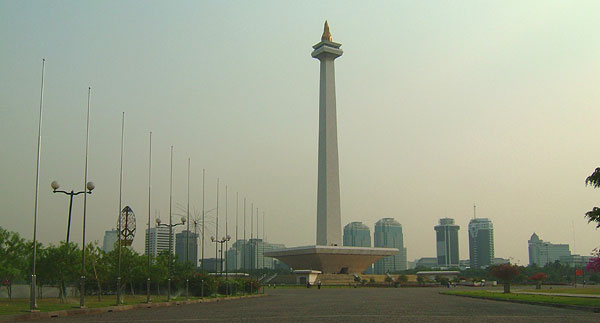 The National Monument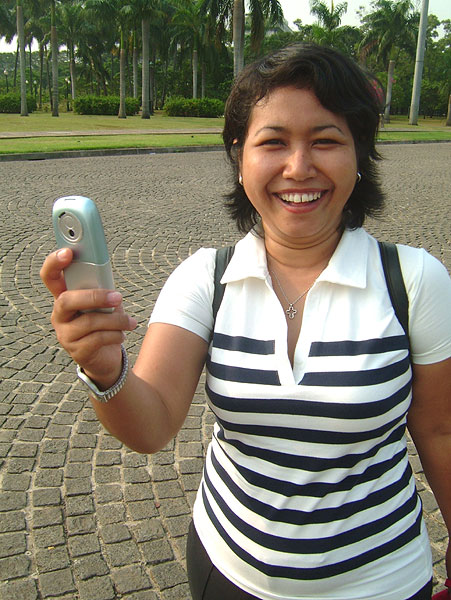 Sonya taking photos with her phone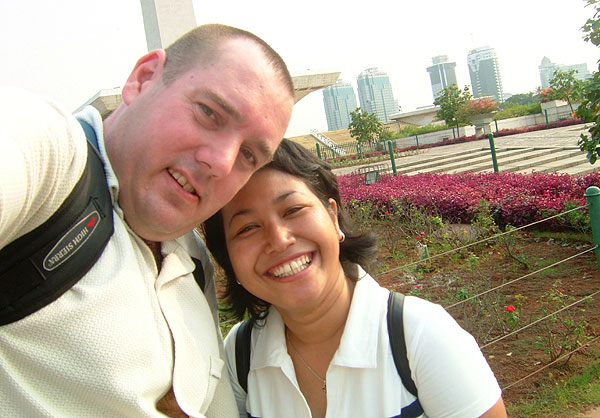 Sonya and I at Monas
Sonya turned out to be a great tour guide getting us lost, so in the end we took a taxi. 5000rp which is pretty much the equivalent to 80 cents.
I know a guy in Perth who has always complained about Jakarta. He was never really socially conscious either, which is why when we went to an Indonesian restaurant in Perth he asked the staff where they came from and when they inevitably answered "Jakarta" he would inform them "Augh, I hate Jakarta!
However, sitting in the cool breezy gardens at Monas, I realised that he was totally wrong about this city. Oh yes, it's noisy and stinking and polluted, but it's got amazing pockets of beauty and a certain vibrance that can only come with a major metropolis.
After we left Monas, Sonya insisted on trying to get us lost again getting back to Sarinah, but I actually have a very good sense of direction and also my love of skyscrapers meant that I was easily able to recognise various buildings and get my bearings.
As it turned out, we only had to walk directly down one street and we would have been there.
Back in Sarinah we met up with Sonya's cousin Meisley and her friend Ratna where we chatted for a while in McDonalds there (although I didn't eat anything!)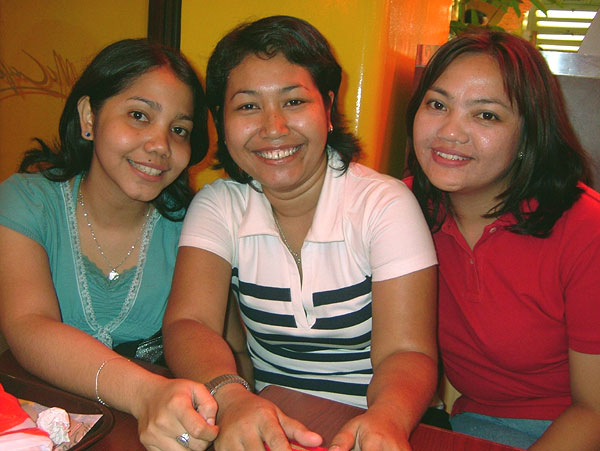 Miesley, Sonya and Ratna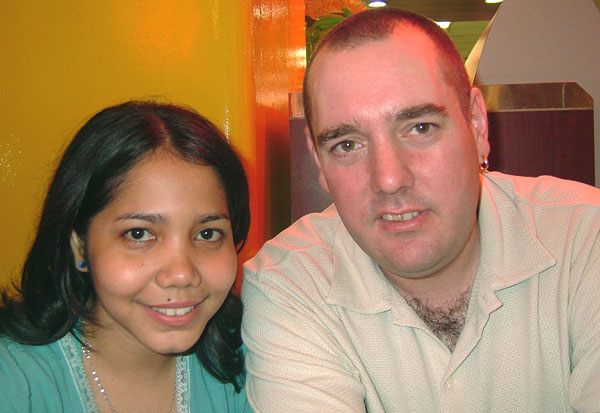 Miesley and myself
I got a taxi back to my hotel where I was due to meet up with Lenda and her friend for a seafood dinner, however while I was heading back, I recieved an SMS from her telling me that her mother had taken sick so they wouldn't be able to. Although I hadn't eaten I was not so worried because the heat of the day had taken it's toll on me and I was beginning to feel quite ill.
I had a little sleep before my Nokia phone beeped a message. I have been using my old Nokia for my Australian number which I have global roaming on. Because it will select any network that is in range it means that it is working in my room whereas my Samsung phone which is on the Telkomsel network is dead under this concrete.
Shortly after I had banging on my door and I had to get up and decent in a hurry as they had arrived to take me out to dinner.
We ended up eating at a night market on the side of the road. This is one of those places that people will tell you to avoid, although my Lonely Planet book recommends them thoroughly.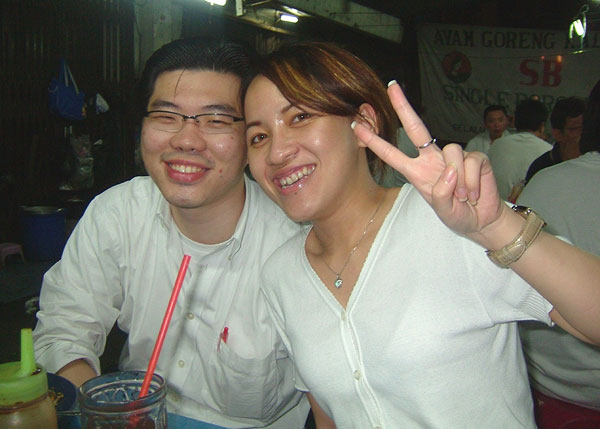 Ardie and Lenda
The food is delicious, but perhaps not so hygienic so in the early hours of the morning I had to make a number of toilet breaks.
I don't regret the experience.
Oh, and tonight I have a blanket!